Plush Hot + Cold Pack - MyVitro
Plush Hot + Cold Pack Back - MyVitro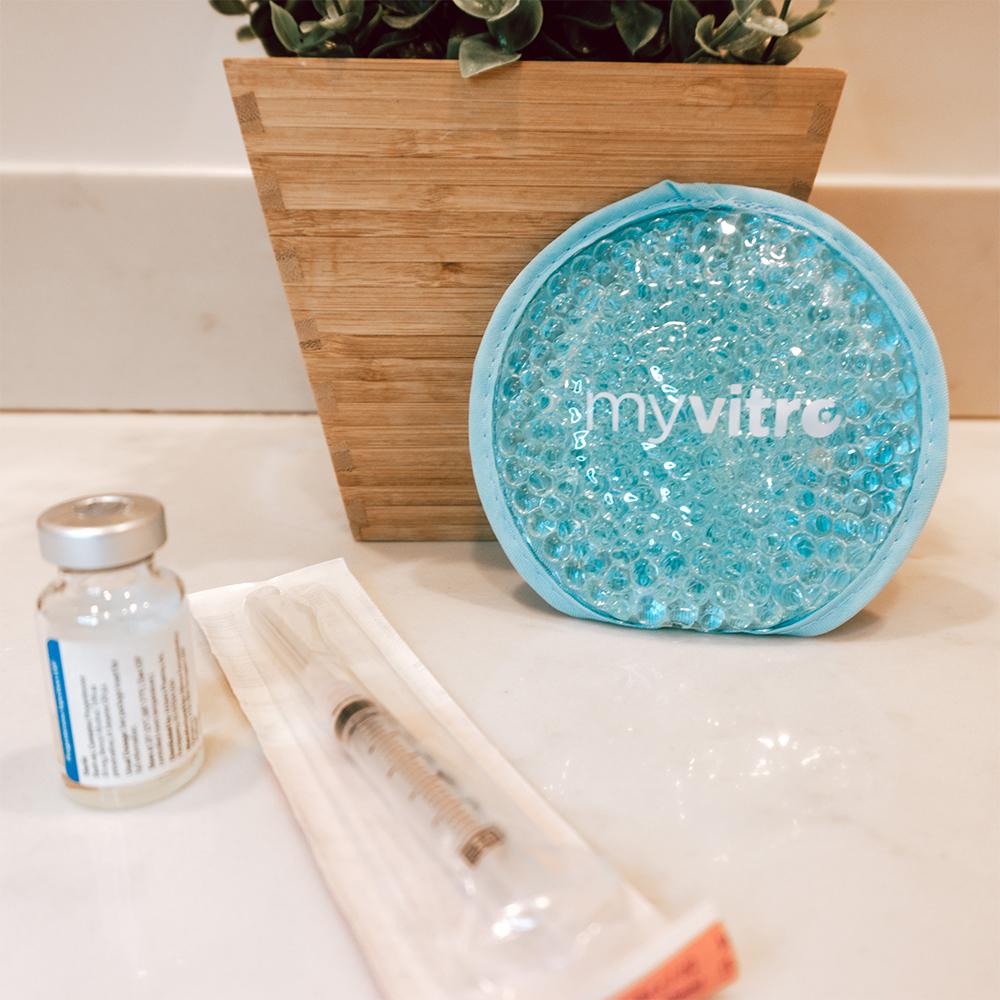 Plush Hot + Cold Pack - MyVitro
Plush Hot + Cold Pack - MyVitro
Aqua bead gel therapy pack is filled with beads that stay hot or cold.

Use to warm up Progesterone in Oil prior to injection. 

One side is covered with an ultra-soft, plush material.

Simply slip a hand under the elastic strap on the plush side to hold the pack in place.
For warm use, wrap the pack in a damp paper towel and microwave on low power in 5 second intervals to achieve your desired temperature. Knead the pack to make sure heat is evenly distributed. Do not overheat.
For cold use, freeze or refrigerate for at least 2 hours.
Hot + Cold Pack Specifications
Size: 4.5" in diameter x .75"H (11.4 cm in diameter x 1.9 cm thick).
Weight: 0.5 lb (0.23 kg)
Care & Cleaning: Spot or wipe clean
Obsessed!
These are a MUST have! I am so grateful to have had these hot/cold packs during my egg retrieval cycle. I used them to ice the area before and after an injection and they stay cool for such a long time. I also used them warm on my veins when I started to bruise after daily blood draws, which was very helpful. These packs are a lifesaver!
WHERE HAVE YOU BEEN ALL OF MY LIFE?!
I thought I was good just using a frozen water bottle. Then, I attended an event MyVitro was one of the attendees and there were perks, so I ordered. OMG is all I can say, this was WAYYYYY better than my big 'ole, thick freeeeezing water bottle. I love how soft is it on the not cold side, I can leave it tucked in while it's doing it's thing to cool my tush, and in LESS time than the water bottle. I haven't stopped telling folks about these packs. Thanks, MyVitro!!!!!
Perfect Little Hot & Cold Pack
I love this little pack. It's small and easy to travel with. The little beads make it easy to manipulate into the size that you need, whether using on your arm, stomach, leg or butt after shots.
Perfect for freezing or heating!
I am so glad I found myvitro. I have just started my first round of IVF and bought a couple of these! I like that they can be frozen to numb an area before an injection And can be heated for after.
I as well like that one side is plush, so your fingers do not get numb when holding the ice pack.